Espacio Publicitario
Navegate In The Diferent Sections
Windows 10 deployment has already started to version 1709 with 16299.15 compilation. This update contains new improvements in both Microsoft Edge and the Start menu, it also has improvements in the Windows acrylic where you can see a very different look and very similar to Windows 7. Then leave a list where we will show the best that brings this new Windows 10 version 1709:
Start Menu and Activity Center
This compilation introduces new interface changes in the Start menu and Activity center, including elements of the new Fluent Design, which was announced during the past//Build 2017. The Start menu enhancements include:
Acrylic: If you have the transparency enabled for the Start menu, you will notice that it has been updated with the new acrylic design.
Vertical resizing: You will now be able to adjust the vertical size of the menu
Diagonal resizing: You can also change the size diagonally.
Now it's easier to click on the edge of the menu to start resizing.
Transition to Tablet mode: the transition to the tablet mode is smoother.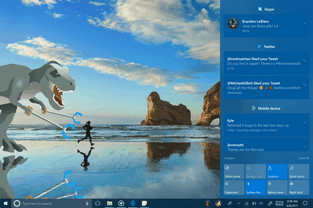 New interface for the Activity Center: The Activity Center has been redesigned on the basis of the insider's feedback to provide clearer and more hierarchical information. The redesign also includes elements of Fluent design System as "Acrylic".
Windows connect your smartphone and your PC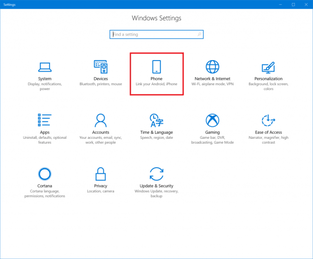 Microsoft has put the first stone on the road to allow the smartphones to interact with the PC, and vice versa, opening a whole new world as far as ecosystem. In this update, the functions are focused on web browsing between devices, allowing to continue our experience of browsing from a smartphone with IOS or Android on a PC with Windows 10.
To start, after installing today's update on your PC, you must go to Settings > phone, and synchronize both devices. Once connected, you will receive a Microsoft text message that will take you to install an application called "Microsoft Apps" for Android, which will allow you to complete the Union.
When you complete this process, go to your phone and start surfing the Internet. When you find yourself on a page you want to view on your PC, simply go to the sharing section (depends on the mobile browser you use) and click on "Continue on the PC". Then you'll have to log in with your Microsoft account. It is important that you use the same as on your PC.
Then you can choose between "continue now" or "continue later". If you choose the first option, the Web page will open directly in your PC's browser. If you choose "Continue later", the page will be displayed in the Action Center and you will be able to open it whenever you want.
IT and Developers
Reverse VM. Microsoft continues to working to simplify the work of developers with the Hyper-V machine in Windows 10. With this feature, restore points are added automatically that will allow us to reverse an error in the virtual machine and return to the state in which it was the last time it was started.
Rutime Broker by App: If you open the Task Manager, you will see that each UWP uses runtime broker instantiated processes for each PPP, rather than sharing a single runtime broker session. This will help improve resource allocation, resource management, and fault tolerance.
The Linux subsystem is accessible from the store and does not require the developer mode: This restriction has been deleted, it is now possible to run Bash on Windows without enabling the developer mode, something understandable considering that it is now installed as Any other application, from the store.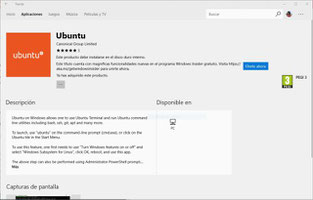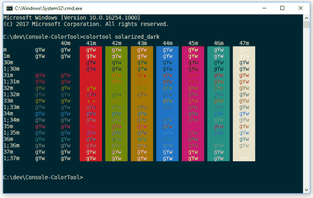 Hyper-V: Virtual Battery Support: It is now possible to see the battery status of your Hyper-V virtual machines. To test it, when you create a new virtual machine using the "New-VM" cmdlet, add the "-prerelease" parameter.
Console improvements: During the development of creators Update, Microsoft updated the Windows console to support the full range of 24-bit RGB colors and today the console receives its first review in more than 20 years. The default colors have changed to improve the readability of dark colors on modern screens and give a better look to the console. To preserve custom configurations, these colors will only appear in clean installations of Fall creators Update.
My People
According to Microsoft, technology has to make it easier for us to connect with our relatives. If we want to share a photo, make dinner plans or receive an answer from a friend or co-worker, My People come to revolutionize the concept of closeness and include them in a new experience.
With My People we will be able to anchor our favorites to the taskbar. For each person, we will see a set of communication applications, to choose which one to use at what time with each. In addition, you can set as a default an application for a person, and the system will remember it, so that we do not have to choose the next time we go to contact that person.
To use My People, we will have to go to the store and check that we have updated Skype, mail and contacts. Then you will need to click the People icon in the taskbar to activate the function and configure it.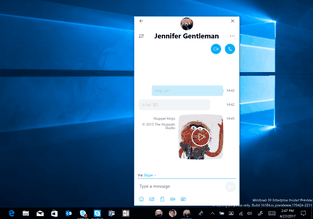 When you receive a emoji, you will see them appear on top of the contact and on the taskbar. If any of our contacts send us a emoji from Skype we will see a great animation. But, if you do not like this option we can disable it from the taskbar.
With this, we can share in two ways in Windows 10. We can drag the files directly over the contacts in the taskbar to start an e-mail or share with our contacts through the option of sharing and choosing who we want to send the mail to.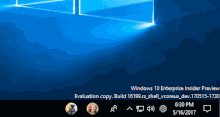 Cortana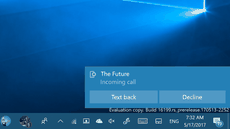 Call notifications: For users with Android terminals, Cortana will now display calls. Install the Cortana app and go to Settings > Notifications > Synchronize notifications and activates all the options you have available. The next time you receive a call will appear a notification indicating who calls you and the option to write a reply SMS.
Bringing the Cortana reminders to the next level: Many of us have photographed a poster of some upcoming event to have it as a reference. With this update, starting with the US market, Microsoft has added two features that will make us not miss a single event.
Ideas of Cortana with the camera album: with your permission, Cortana will now appear to offer you if you schedule a reminder when you detect a poster on your camera album. To prove it, we will have to make sure we have the session started in Cortana with our MSA and give permission to access our camera album.
Cortana will only offer these ideas when the device is connected to a power source and connected to an unmeasured use network.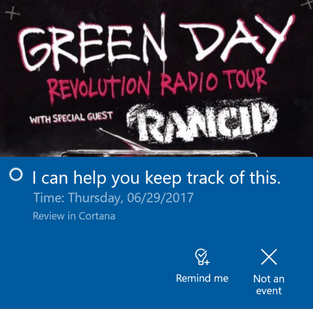 Cortana Lasso: Are you a stylus user? If so, Cortana will help you follow events depending on the on-screen information. Use the new loop tool to round out the relevant information and Cortana will recognize the time and offer suggestions on a menu. To test it, go to Settings > devices > Windows Ink > Press and hold, and choose Cortana Lasso in the selector. Look for a website with an upcoming event, once you have it on screen, press and hold the button, round the information and see how Cortana does its magic.
Get the results of the search directly in Cortana: The Cortana window will automatically expand showing exactly what you need. It works only with some searches, such as movies, personalities, bag information, time or flight status. If you do any of these searches and does not expand, click on the arrow that is to the right of the term searched, very simple and really useful.